Top 10 Most Valuable Brands of 2020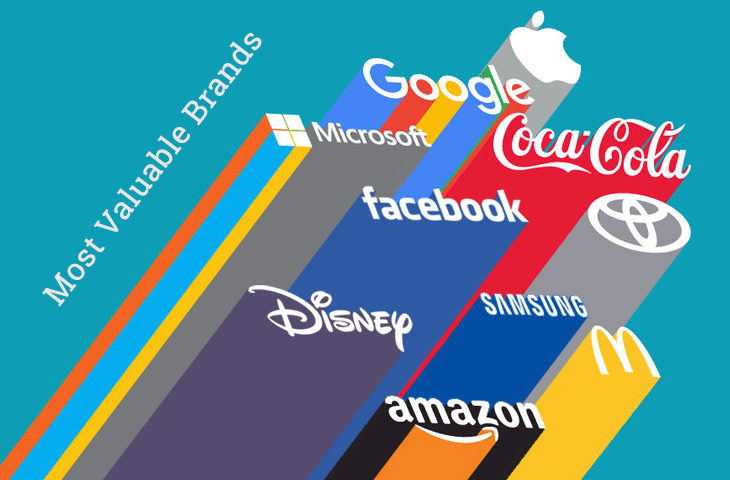 COVID19 Pandemic created chaos globally and not impacted normal people but also largely impacted the big brands. But without worrying brands are recovering well at global levels. Recently 2020 BrandZ has published the list of top 100 global brands list in partnership with research firm Kantar and WPP. We isolated list of top 10 most valuable global brands.



10 ) MasterCard :

we all have use

MasterCard for payments this global payment Giant secured 10th Position in most valuable brand of 2020 with Value of $1,08,129 million. Value has changed 18 percent as compared to last year.



9) McDonald's:

with Brand value of whopping $1, 29,321 million Fast food Giant McDonald's positioned 9th in most valuable global brands of 2020.pandemic haven't affected much as the brand value declined only 1percent as compared to last year.


8) Facebook:

our love for Facebook and its family App such as Instagram and Whats app is boundless but still Facebook couldn't make it to top 5. Sitting at 8th position facebook inc. Valued at $1,47,190 million. Brand value declined 7percent due to data privacy issue which they have fixed this year and dropping in user time spend as tiktok was taking over user Time spend last year.

7) Tencent :

Chinese tech ace secured at 7th position with brand value of $1,50,978 million surpassing Facebook with 15 Percent growth in last one year. Company is leading in various tech driven service like artificial intelligence, augmented reality and other internet service.


6) Alibaba Group:

Most talked brand of 2019 Ecommerce Champion Alibaba has secured th 6th Spot on Most Valuable brand list with Brand value of $1, 52,525 million expanding worldwide the growth in brand value has increased by 16percent in last one year.


5) Visa:

America's favorite banking payment solution VISA became 5th most valuable brand of 2020 by gaining just 5 percent brand value by $1, 86,809 million in last year. Visa gave tough competition to its rival MasterCard.


4) Google:

Global Search engine giant google scored 4th Position with enormous growth brand Valued at $3, 23,601 million. Giving close competition to Microsoft and Apple. Google will sustain for long term with acquisition of multiple brands and gaining secured position for its parent Alphabet INC.

3) Microsoft:

with roaring 30 percent growth in brand value last year Satya nandela's US based tech conglomerate Microsoft become 3rd most valuable brand of 2020. After the successful launch of windows 10 with surface capabilities today Microsoft valued at colossal $3, 26,544 million.


2) Apple:

Launching an iPhone every year Apple brand value increased 14 percent last year and gained 2nd Spot in most valuable brand of 2020.current valuation of Apple is $3, 52,206 million and this will grow further.



1) Amazon:

Finally the first one, Jeff Bezos's World-class E-commerce company amazon Tops the list with Brand value of $4, 15,855 million. With 50 plus subsidiaries amazon has gained total 32 percent in brand value. Beating all of the tech and E-commerce giants Amazon is dominating the list and become world's most Valuable brand of 2020.