Key Highlights of Reliance AGM Jio 5G, Jio Glass,Jio TV Plus and much more in pipeline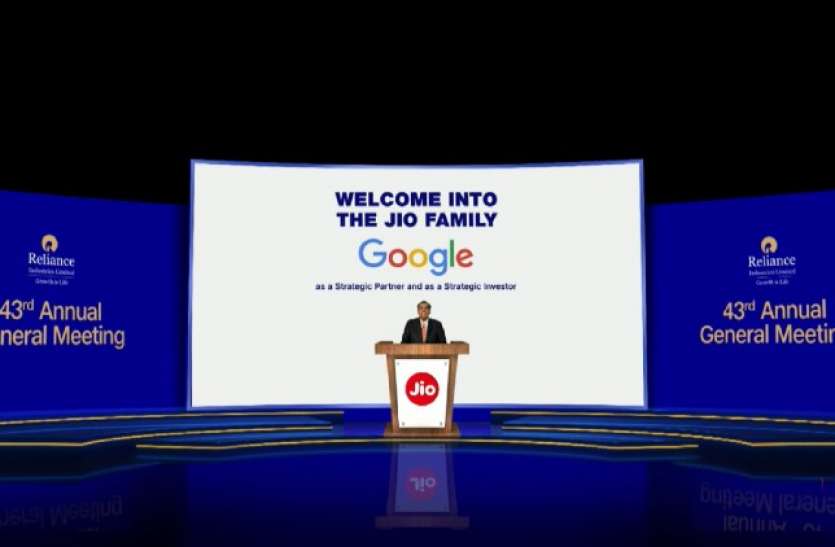 The Much Awaited AGM of Mukesh Ambani Own Reliance industries took place today on 15
th
June. Mukesh Ambani Announced many thing which includes Google's strategic investment in Jio Platforms worth Rs 33,737 crore for 7.7 percent stacks. This will make google 14
th
Investor in Jio Platforms just day before Google's CEO Sundar Pichai Announced Rs.75,000 crore investment in india. Seems the major part goes to Reliance. Here is the Key Highlights from the RIL's 43
rd
Annual General Meetings.
·

Launch of Jio Glass:

The latest innovation of Reliance Jio is their

m

ixed Reality headset Jio Glass which will empower holographic video calling. Company announced that Jio Glass is at cutting edge technology that provides finest Mixed Reality services to users a truly meaningful immersive experience. The Glass Weight is 75 grams only it will be connected with just one cable and there is already 25 apps that allows user to experience augmented reality video calling and meeting. This technology provides 3D virtual chat rooms and can conduct holographic meeting through Jio Mixed reality cloud in real time
·

Jio 5G

: Jio has developed Made in India 5G platforms. The new 5G platform is developed from the scratch and provides user an delightful high speed world class 5G service.once the indian government releases the 5G spectrum RIL Jio will start offering 5G service and also will provide 5G infrastructure to other telecom company.Jio is 5G ready before the government provides the 5G spectrum.
·

Jio TV Plus

: Mukesh Ambani Announced Launch of Jio TV plus during the RIL's 43rd First ever Virtual AGM. Jio TV+ plus will be having integrated content from 12 OTT Platforms which includes Amazon Prime,Netflix, Disney+ Hotstar,Voot,Sony Liv,Zee5,Jio Cinema,Jio Saavn and YouTube among the others. With this user doesn't have to buy multiple subscription of OTT VOD services.
·
Success of
Jio Meet
: At the AGM Mukesh Ambani said, Jio Meet built in just 2 month and crossed over 5 million downloads since the launch. Jio meet Is India's first cloud based video conferencing application.Jio meet has provisions for scheduling meetings and screen sharing feature just like zoom. Many tech experts feels that Jio meet Is shadow copy of Zoom and Google meet.
·

Success of Jio Mart

: addressing the RIL's shareholder, Mukesh Ambani announced that the Company has received good amount of interest from

strategic and financial investor and this will get invested in RIL's Retail business which is Jio mart. Speaking about Jio mart's success Ambani said,Jio mart has led over 250,000 orders a day within few weeks of its launch. Jio mart is tech based enabled partnership that will bridge producers, traders, small merchants and direct consumer. Now Jio mart will focus on scaling up the business and will acquire more and more customers.

·

Google's Investment : Day before AGM, Google's Global CEO Sundar Pichai Announced investment worth of Rs.75,000 crore in India and during the AGM, Ambani Announce the investment worth of Rs 33,737 from Google in RIL's Jio Platforms for 7.7 stacks
In last 12 weeks there's a lot happening in Reliance industries. Company received the investments from 14 global companies. RIL's has raised Rs.1,52,056 crore as a strategic investment. Mukesh Ambani made the company net debt free before the given time. The company's market cap reached 12 lakh crore and become india's number one company. Mukesh Ambani Become India and Asia's richest man and surpassed warren buffet in worlds top billionaires list.